VIOLENCE REDUCTION INITIATIVES
February 21, 2023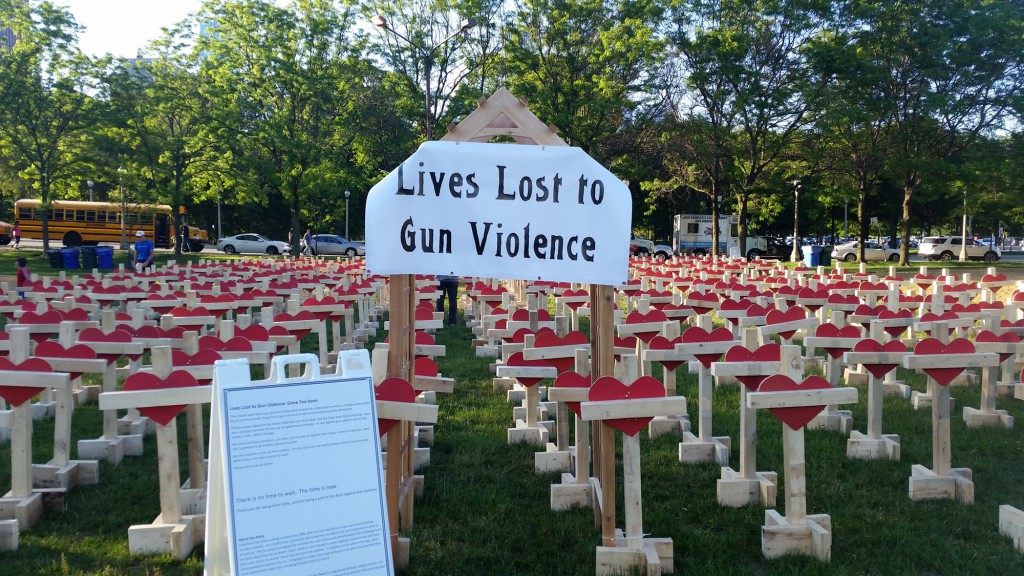 In 1994, Rev. Dan Haas, pastor at Aurora Community Church, and Father David Engbarth, of St. Nickolas Catholic Church, began to pray at the site of every homicide committed in the City of Aurora, Illinois. At that time, Aurora had a population of approximately 160,000 people and a homicide rate of 3 times the national average for a city of our size. The prayer times at the homicide sites became known as "prayer vigils". Father Engbarth and Rev. Haas organized the vigils under the banner of the Prayer Coalition for Reconciliation. The Prayer Coalition was meant to be exactly what the name implies. A joining together of believers in Jesus Christ from every Christian denomination, Protestant, Roman Catholic and Orthodox, to lead our community in prayer and repentance for the violence in our city and to facilitate the healing of those affected by violence. We also believed that through prayer, God would reveal concrete action steps that the community could take to eliminate the root causes of violence. In a true collaborative effort by Law Enforcement, neighborhood groups, City government, schools, social service agencies, businesses, various non-profits and the Church the homicide rate in Aurora began to rapidly decline in 2006 and in 2012 Aurora had zero homicides. The homicide rate has stayed in single digit numbers every year since 2012. Click here to read an article by Christianity Today on the Prayer Coalition.
Violence is still a major problem in many urban communities in America. The problem has many factors influencing this type of behavior and requires a true collaborative effort if violence is to be reduced in a community. The needs are too great for any one sector of a community to effectively serve. At its core, violence is a moral and a spiritual problem. Violence, particularly murder, is driven by anger, jealousy, selfish ambition, revenge, pride, greed and lust. These are internal motivations found in the heart, soul and mind of man. God identifies these motivations as sinful and they are evil morally. This is why the Church must be involved in a collective community effort to reduce violence. God has equipped the Church to minister to the sinful motivations of men and women in ways that transform their hearts, souls and minds. The transformative tools God has given to the Church are the Bible, prayer, repentance, forgiveness of sins, the ministry of the Holy Spirit and loving your neighbor.
Prayer continues to unite the Church in Aurora in there stand against violence. Rev. Haas and many other outstanding Pastors in that City work together on a variety of prayer activities. On the first Thursday in May of every year we celebrate the National Day of Prayer with a 12 mile prayer walk across the entire community. Rev. Haas has lead a 3 day, 48 mile prayer walk around the City of Aurora boundaries on many occasions during our City's celebration of the Week without Violence. Each year Pastors across the community join in a 40 day period of prayer for the City. Every month Pastors come together for a time of prayer on the first Thursday of the month. Rev. Haas still leads prayer vigils when a homicide occurs in Aurora. This commitment of focused prayer by the Church has brought the blessing of God on the efforts of many people in our City. In the 1990's people were leaving the City of Aurora and businesses could not be attracted to locate in the community. Aurora was not viewed as a safe place to work, live or raise a family. In the last 10 years all of that has changed. Aurora's population is over 200,000 and growing. It is the second largest City in Illinois. Aurora has received numerous awards. Frequently, the best water quality in Illinois. One of top five places to retire. One of top ten safest cities in US. One of best managed cities in America. One of the most diverse cities in America. It is now a great place to work, live and raise a family.
In 1996, the Prayer Coalition held a prayer vigil for a gentleman who was murdered, Mr. Bud Stadler. Mr. Stadler was the father-in-law of Mr. Greg Zanis. Greg was deeply impacted by Mr. Stadlers death. Through the prayers, scripture readings and the demonstration of love toward his family, Greg found emotional healing, comfort and spiritual transformation. As a union carpenter, Greg wondered how he could comfort people in the loss of their loved ones as he was comforted. Greg decided he would make a wooden cross for every family that suffered the loss of a loved one to violence. He would then bring them to our prayer vigils. In 1998, the mass shooting at Columbine High School in Colorado occurred. On his own initiative, Greg made 13 crosses and drove them to Littleton, Colorado to offer love, comfort and hope to the families of the victims. Since that day in 1998, Greg Zanis has made and delivered over 22,000 crosses to the families of murder victims. To enable him to do this enormous task he has formed Crosses for Losses a not-for-profit organization.
1n 2017, A Future and A Hope Foundation began to partner with Crosses for Losses on several events. Beginning on Sunday, January 8th, 2017 Dan Haas and Greg Zanis began to place a cross for every homicide victim killed in Chicago during the previous week, on an empty lot located at 5539 S. Bishop St. in the Englewood neighborhood. In 2016 Englewood was the most violent neighborhood in Chicago.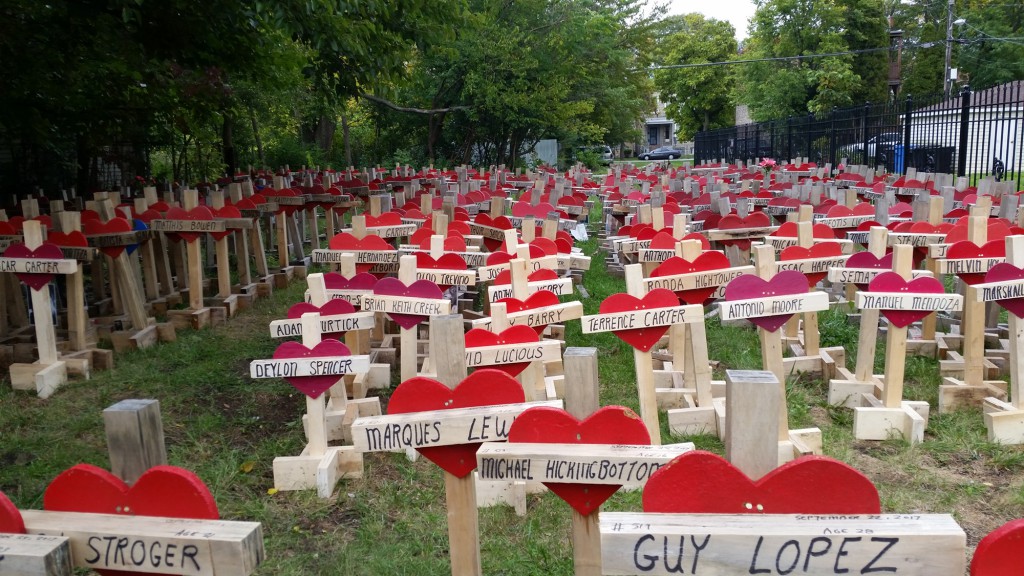 At 3pm on Sunday afternoon we would meet with family members of murder victims, pray with them and give them a cross representing their loved one. We would also pray for the City of Chicago and rededicate every piece of land where a murder had occurred. Frequently, neighbors would come by to speak with us and give us permission to pray with them. During the year we witnessed many positive changes happening in the area. More children began to be outside and play. Adults were standing outside talking to one another. A calm came over the neighborhood. By year end we had placed around 650 crosses in the lot. In December of 2017, the City of Chicago issued a report that homicides decreased slightly overall that year, but had dropped by 45% in Englewood. Many believers were holding focused prayer events in Englewood in 2017. We were privileged to be a part with them. It was God at work who made the difference.
On November 11th-13th Dan Haas traveled to La Vegas, Nevada to meet Greg Zanis. Greg had placed 58 crosses on the road going into the Las Vegas Strip to remember the 58 victims of the shooting at Mandalay Bay. The Clark County officials allowed the crosses to be in this location for 40 days of mourning. On Sunday, November 12th, we held a ceremony to pray for the victims families and to commit the crosses into the Clark County Museum.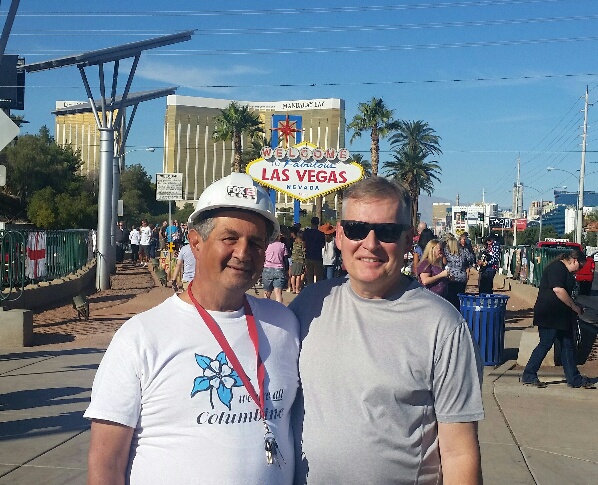 A Future and A Hope Foundation would welcome the opportunity to share with you further the violence reduction story of Aurora, Illinois and to hear your story. Rev. Haas would gladly offer advice and training in the following areas.
1. How to lead and conduct a Prayer Vigil.
2. The different types of Prayer Walks. How to do a Prayer Walk.
3. How to organize the Church to pray together in your city.